NASA confirms drone for Mars 2020 mission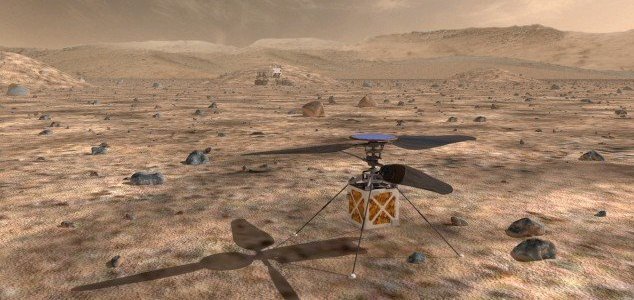 The project is risky, but the pay-off could be huge.

Image Credit: NASA / JPL
The space agency is moving forward with its plan to send a helicopter drone to Mars in two years' time.
The drone, which has been in development at the Jet Propulsion Laboratory for several years, has been designed to operate autonomously on Mars without requiring real-time input from an operator.
Weighing 1.8kg, the device has an internal battery capable of powering flights of up two minutes at a time – enough for it to reach an altitude of around 300 meters.
NASA had not been certain whether or not the drone would actually be sent to Mars, but now it looks as though it will in fact be accompanying the next rover when it launches in 2020.
If all goes to plan it will be the first ever heavier-than-air aircraft to operate on another planet.
"The idea of a helicopter flying the skies of another planet is thrilling," said NASA administrator Jim Bridenstine. "The Mars Helicopter holds much promise for our future science, discovery, and exploration missions to Mars."
The drone project has been described as "high risk" due to the likely possibility of failure.
"If it does not work, the Mars 2020 mission will not be impacted," NASA stated
"If it does work, helicopters may have a real future as low-flying scouts and aerial vehicles to access locations not reachable by ground travel."
[embedded content]
Source: BBC News | Comments (3)
https://www.unexplained-mysteries.com/news/318025/nasa-confirms-drone-for-mars-2020-mission